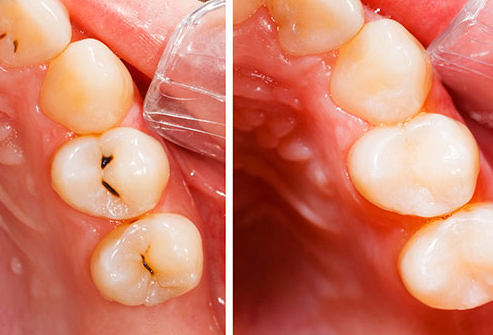 To treat a cavity, your dentist will remove the decayed portion of your tooth, and apply a dental filling to fill and protect the area. Dental fillings may also be used to repair cracked or broken teeth that have been worn down from misuse.
Your dentist will give you a local anesthetic before removing the decay. Once decay has been removed, your dentist will test the area to make sure no traces of decay remain on the tooth. Once decay has been removed, a dental filling can be applied. If you are receiving tooth-coloured fillings, several additional steps are necessary before the filling process is complete.
Today, several types of dental fillings are available. The options available today range from more costly options like porcelain to more flashy options including silver and gold. Composite resin fillings, made up of plastic and glass materials, are more common. Depending on the amount of decay and the cost plus your dentist's recommendation, you will receive the appropriate dental filling to suit your needs.
Call Dentistry on Dufferin today so we can examine your teeth, and make recommendations suited to your situation. Our friendly and knowledgeable staff will make you feel welcome and comfortable during your dental visit, and you will feel at ease knowing you have our staff taking care of you.