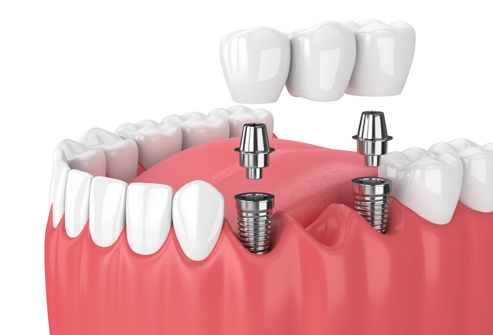 Missing teeth? Dental implants can have you smiling again. Dentistry on Dufferin offers same day dental implant and implant dentistry services in North York and Vaughan. Learn more about our dental implants and implant dentistry today.
Dental implants are roots that form the foundation for fixed or removable replacement teeth that look like your natural teeth.
When a tooth is lost, it is natural for the bone surrounding that tooth to shrink and lose its structure. When an implant bonds to bone, the bone is less likely to shrink.
Implant Dentistry is a good option for individuals whose teeth are beyond repair, but have maintained good oral health, including a strong jawbone and are healthy overall. If you are considering receiving dental implants, although they are not as strong as regular teeth, they offer many benefits both from a cosmetic and functional standpoint. You also need to brush and floss implants regularly, yet is gentle when doing so and ensure that all sides have been cleaned.
Take advantage of our same day dental implants and implant dentistry services. Call Dentistry on Dufferin's implant dentists today so we can help you manage your oral health concerns. Our dental implants service and quality of care is unmatched, along with our genuine care for all patients who come to our dental office in Toronto, North York and Vaughan.