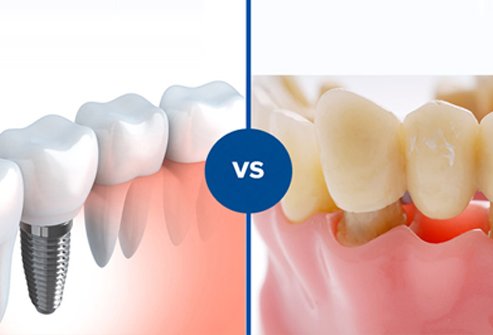 Our dental team in Toronto, North York and Vaughan believes that the best teeth are your own natural ones, and will take every step possible to save your tooth when possible; however, they may be times when a tooth or teeth are damaged or decayed beyond repair and will need to be extracted and replaced with a dental bridges or dentures.
If you have lost a tooth or several teeth, dental bridges or dentures are two options to restore your confident smile.
Dental Bridges
When a tooth has fallen out or been extracted, it is important that it be replaced with an artificial tooth as soon as possible. This is necessary to prevent the exposed tissue from becoming infected or so the surrounding teeth do not become misaligned and potentially cause other oral health concerns.
A dental bridges are used to replace one or a few missing teeth and is held in place by surrounding, healthy teeth. A dental bridge is a permanent treatment; once the procedure is complete, the bridge cannot be removed from the mouth.
Dentistry on Dufferin offers dental bridges to patients in Toronto, North York and Vaughan.
If you are considering getting dentures, you may be a good candidate for partial dentures or full dentures.
Partial Dentures North York
Partial dentures are custom made to replace one or more missing teeth, giving you the appearance of a straight, beautiful smile. Partial dentures need to be removed nightly for cleaning.
Full Dentures
Full dentures or false teeth may be right for you if you are missing an entire set of natural teeth. You will have a smile you can show off, and be able to speak and chew normally.
If you choose to get dentures, you should keep in mind that they need to be cared for the same as natural teeth and remember these points:
Dentures need to be cleaned or else plaque can grown on denture and spread to natural teeth and gums that may lead to cavities and gum disease
Remember to use a soft bristled toothbrush when brushing dentures and natural teeth.
Dentures need to be soaked overnight in dental cleaner, and in warm water only if the dentures have metal clasps
Brush and rinse your dentures the next morning before use.
Dentures may need adjusting every so often to ensure the best possible fit.
If you have partial dentures, it is still important to get regular dental checkups to ensure your natural teeth and gums are in good health.
Dentistry on Dufferin in Toronto, North York and Vaughan offers a range of dentures including partial and implant- supported dentures, to restore patients' smiles.